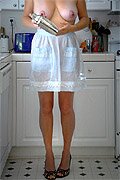 I am so excited I may just burst.
Work has been unbelievably stressful, but the worst of it will be behind me on Wednesday.
On Thursday, Richard and I are going on a road trip.
We're going to go to one or two BDSM clubs and an Event.
We're going to spend a couple of days with another D/s couple. A couple that plays much more intensely than we do, so I'm a little nervous about that. I have this teensy fear of the two Domly Ones getting into a "look what I can make my slave do". Or "my slave is more slavely than your slave". Which I would for sure lose, since the other woman is a pain slut and really into anal and an exhibitionist and much more experienced than me in just about anything you can name.
But here's the best part of the road trip and why I'm so excited I can barely concentrate to finish my work. The slave in the D/s couple we're staying with is my friend Megan. I wrote about Megan in April. I cut and pasted that post below, since I can't figure out how to hotlink on our new site yet. Megan is one of the smartest, funniest, sexiest people I've ever known and she was my sole support in the early days of me discovering my submissive side. Without her, I wouldn't have had the courage to meet Richard, which was the best thing that ever happened to me (Richard says "sure you would have; you didn't have a choice" lol).
Megan was also one of the initial motivators for starting this blog, because she told me that I should write about everything that happened in my new life with Richard so I could remember it better later. Plus she's a perv, of course, so she wanted to hear details about my crazy new sex life.
Oh, one final thing: I think we're gonna do a photoshoot together. I'm pushing for Amy the Schoolteacher and Megan the Naughty Schoolgirl, but we'll have to see how it goes.
Wheeeee!
————————————————————–
April 20, 2007
My Friend the Slave
I've talked about how a few short months ago I was pure vanilla. I didn't know I was sexually submissive, and I didn't know that people lived the fantasies that I only…well, fantasized about.
I started exploring D/s erotica online last May, and through that managed to stumble onto an online kink community. For the first few weeks I lurked on the boards, reading posts and learning. I still remember the first post I made; I was so nervous that my hands shook as I typed.
One of the first threads I read was a woman responding to a flamer - you know, the kind who writes eg "How could you let a guy hit you? You must be really fucked up if that turns you on!" She was so open, so thoughtful in her response. She talked about how long it took her to acknowledge her sexuality, not just to others but to herself. About how freeing it was to finally do so. She wrote about the complexities and contradictions in a D/s relationship, and the depth of feeling and connection possible within one. I almost cried reading it. It felt so good to know that other people had the same feelings and urges that I did. Maybe I was a freak, but at least I wasn't the *only* freak out there.
As I became more comfortable posting, I would regularly end up in the same threads with this woman. We developed an ongoing joke - she would tease and torment me, I would cyber-spank her, she would plot to turn me bisexual. Silly.
Now I talk to her every day, and we email several times a day. We live across the country from each other, and we've known each other for less than a year, but she is my dearest friend. Megan almost singlehandedly navigated me through my first experiences a) as a member of an online community, b) dealing with the attentions of predatory domly types, and c) coming to terms with my sexual submissiveness.
Here's the thing. She is the most emotionally intelligent women I know. She has the sharpest, quickest wit. She is tooth achingly sweet to everyone, and ferociously protective of those she loves. She is scary gorgeous - tall, blond, blue eyed, cheekbones that could cut you. She could walk into a room, and walk out five minutes later with anyone in the room, man or woman.
She's a slave.
I remember one of the first times we were talking on the phone. We were in the midst of a serious conversation when she suddenly interrupted me "Oh! I have to go! Master says it's time for bed."
My jaw dropped. This was not fantasy. This was not theoretical. Megan was living it. She was (is) a slave. She has a tattoo on her thigh that says "slave" in kanji.
I chewed on that for a few days. At this point, I still saw myself as a vanilla person who had kinky fantasies. But my beloved friend, my most trusted confidante, was a…slave. What did that mean?
I decided that it meant a couple of things. First, I finally got it that you can be kinky AND be normal. If that makes sense. Megan is reaaaally kinky. She's also reaaaaally smart and reaaaaally competent and reaaaaally emotionally healthy. That suggested to me that *I* could be kinky, and also smart and competent and emotionally healthy.
Second, it meant that I was in a relationship (albeit a friendly relationship, not a romantic one) with a kinky person, and I was getting a lot out of it. More than in my non-kinky relationships (friendly or romantic). This gave me hope that I could have other relationships with other kinky people that were satisfying and fulfilling.
Megan gave me the courage, both by her example and by her daily support and encouragement, to take a chance with Richard. To be open enough to get to know him, then to meet him, then to move in with him. She didn't give me blind support and encouragement - she asked me hard questions and challenged me to think through each of my decisions. But that, of course, made her support infinitely more valuable to me.
I could not be here now, so much happier and in love than I ever imagined I could be, without her love and guidance.
My precious friend, my dearest sister slave.