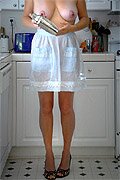 Warning: whining and over-simplification ahead.
Why is it that submissives invariably need regular…proof or confirmation that they are in fact in a D/s relationship? Why don't dominants need this?
I have a working hypothesis. You know how vanilla men tend to want to have sex more than women? An ex told me that men will never turn down an offer of sex, because they never know when they'll get it again. He contrasted this with women, who generally KNOW they can get sex whenever they want, so they can say "no" more comfortably.
Similarly, Richard knows that he's The Boss. He knows that he can do whatever he wants with me, whenever he wants. I, on the other hand, have no idea when the next spanking or fucking is coming. (Remember, I said I was going to over-simplify.)
I've been having a problem with migraines since Christmas, and we've had a bunch of visitors. That means there is less time and privacy for play. Plus Richard is feeling very protective of me, so he's (relatively speaking) been gentle with me when we make love.
I have been very focused on: working a lot whenever I don't have a headache, and making sure our visitors are happy, amused, well-fed and well-bedded. This means a whole lot of organizing. Organizing is something I'm good at, but the downside is that when I'm doing a lot of it I feel like I'm in charge, like I'm in control.
Like I'm The Boss.
Normally, when we have more time alone and more time to play, Richard keeps my inner Boss in check. I'm happier when he does, because I don't WANT to be the one in control. When I'm in control, I worry a lot and never stop thinking. I'm anxious. I spent most of my life that way, like I said I'm good at it, and it's really really really nice not to be that way anymore. I am still the main planner and organizer in our relationship, and I'm a Boss-person at work. But (when we're playing regularly) even when I'm planning and organizing things, I know it's for my Daddy, so it doesn't stress me out as much.
These days I'm feeling a leetle bit like I'm in a vanilla relationship, with the occasional rough sex. Megan and I have talked about this issue over the last couple of days. (Gosh, it's awesome having her here, I will post more about that later, and she may write a guest post.) She's dealt with the same issue in the past, and we agreed that there is no way that we would start acting like a brat to get the negative attention that would help us focus again. We're both too proud to precipitate a punishment, because that feels manipulative to us.
I talked to Richard about this too (of course). It bothers me a lot that I can't just get my head back into D/s space on my own, like Richard seems to be able to do. I told him that I don't know what to do when this happens.
He said "All you need to do is tell your Daddy. I can help you. You think you own your ass? *I* own that ass, and I can spank it, and fuck it, and play with it any way I want. Let me know if you need me to do that."