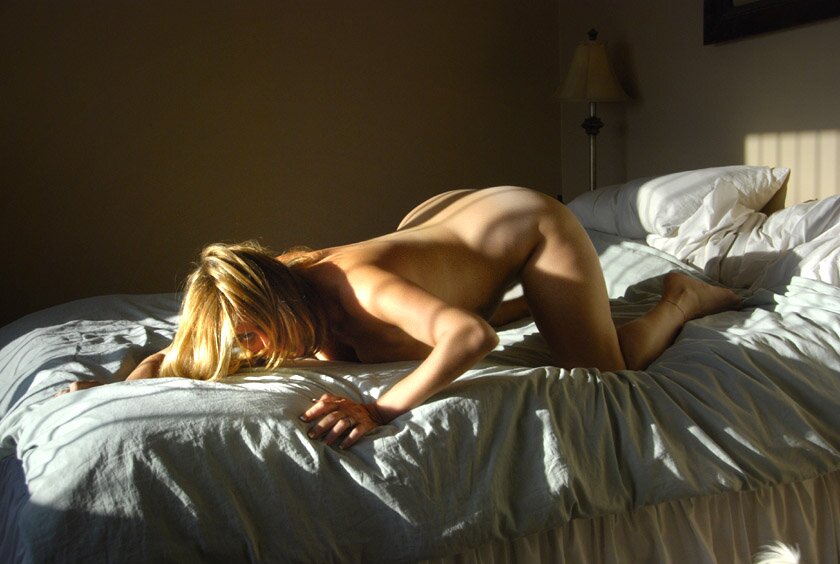 He is feeling aggressive these days. His eyes follow me as I cross a room, watching me like a predator watches its next meal. He is impatient if I take too long to come to him when he calls. He wants me near him, so that he can reach out and touch my breast or feel my hair or pull me even closer.
When we are in bed together, he pulls me into him and rolls me whichever way it is he wants me. If I am slow in responding, he growls and pulls me more roughly. Sometimes he wants my head on his shoulder, my belly and legs long against his side, one leg thrown across his. Other times he wants me on my side, with my ass tucked into him, my wrists in his firm grip. My arms are wrapped around myself and I feel like a small bundle, unable to move easily until he wills it. When he wishes he unwraps me, either to re-position me or to open me up and play with me.
He plays with me like a cat plays with a mouse. From a dead sleep I am rolled onto my back and only vaguely aware of the first few nibbles and pinches. I awaken as his attention to my breasts becomes more persistent. He is playing with them intently, watching them move as he bats at them, seeing the nipples harden and elongate as he tugs. He leans over to taste them and then suckles harder, occasionally nipping as he does.
I moan and he looks up, delighted that I am now awake. He rises over me, looking down on me with unconcealed lust. His hand roams over me, brushing the hair from my face, caressing and briefly gripping my neck, running along my breasts and down my belly, into my fur, my soft wetness. He plays with me there. My hips start to move of their own accord, slowly at first and then arching up to meet him.
I make little sounds when he plays with me, he tells me. Small moans and squeaks and purrs. He knows that if he continues this way, I will soon be adding whispers and pleas to the sounds. Garbled, but clear to him: fuck me, pleaseplease fuck me. Fuck me. Fuck me now. Please.
Before he will fuck me, he makes me cum for him. He tells me I can't have it ("I want it. Please. Fuck me. I need it. Please") until I cum. He tells me this, he taunts me with it, as he brings me closer and closer to the edge. As he brings me there, his hands and mouth on me are rougher and rougher. I can't think, I don't even know I have a brain, all I know is handsmouthsweetpaingodtouchohohoh. I cum, I am racked, I shake, I gasp, I cry out and he is in me fucking me and it is goodgoodgoodsogood. He is deep in me and filling me and there is wet and slick and grinding against me and pushing and I arch to meet him and he cums and shudders and cries out and falls onto me, sweat-slicked and chest against mine. Mine. My man.
Later I find small marks on my breasts and my neck. I love them, they are his marks on me. Marks of ownership. I am his.
He did not escape unscathed. Both shoulders have yellowing bruises where I bit down. One time he counted more than a dozen, from different encounters. I don't know that I do it when I do, I am always shocked afterward, when we are in the shower or I see him dressing. I trace them and the animal in me remembers, looks at them through half-hooded eyes.