More body modification, or if you like, de-modification. Is that a word? It is now.
We tried Amy with the acrylic nails for a while, but they weren't working out to our mutual satisfaction. While they looked good, they made her feel just a touch out of sync with her fingers, plus they hurt, in general.
Well, I don't like my baby girl feeling pain.
Hmmm…
Unintentional pain, that is. I don't see the point in that. So we had the acrylics taken off, and Amy is back to her regular nails. Also very beautiful, just in a different way - perhaps minus the decadent feeling of sensual indulgence acrylics lend to a woman, but having a definite natural beauty. I like both kinds of beauty.
Natural nails suits Amy best.
And, Amy is no longer smooth between her thighs. After some discussion, in which Amy proudly told me she had been admired in the past for the look of her pubic hair, we decided to give that a try. Amy has been keeping smooth underneath, but letting her hair grow back. I am planning to clip it short for a photo shoot, but for now I am enjoying it as it is.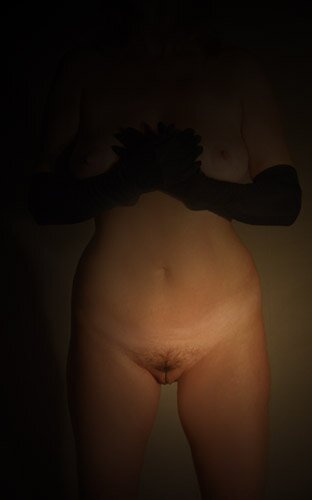 Very lovely. Amy misses being smooth, and keeps asking for permission to return to that, which will be granted, but only after I get the picture I want from this. Although the one above is also nice.