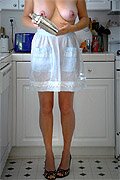 Hi everybody! Long time no blog. I was teasing Richard about just jumping in with a picture and then talking about a particular event ("Cum Here Often?"), without explaining what's been going on with us for the last little bit. What a guy.
Soooo I thought I'd just give you a quick update of the last few months. At least as much as I can without giving too many details about my job, etc. It feels weird to be posting again. I think it's easy to get out of the habit, and then it takes some major "activation energy" to start doing it again. I really had to make myself sit down and write tonight. I'm feeling a bit shy and unsure of exactly what to say, I guess from lack of practice.
As some of you know, I have been wrestling with migraines since December. It's only been in the last month that I have been mainly pain-free. (And many, many thanks for the great suggestions from y'all - several of them helped quite a bit. I'm managing it now with acupuncture, occasional Imitrex, and cautious use of the computer and driving, my main triggers.) It has been challenging for me not to become discouraged and depressed about the pain. Hats off to all of you who have dealt with years of chronic pain with grace and good humor.
Professionally, the last year has been extremely challenging but also very rewarding. I am happily entering a much lower-pressure period now and I'm looking forward to getting back to the rest of my life - writing this blog, gardening, cooking, exercising regularly. If it weren't for Richard, I would not now be saying that this was a rewarding year, only that it was challenging. Because of his support - emotional, intellectual, logistical - I feel like I've entered a new level of productivity. Really, I haven't done this level of work since before my children were born. And that's with a recurring migraine - wow. It is great to have a partner.
As you know, my best friend Megan lived with us for a couple of months. It was wonderful having her with us and I would have loved for her to stay longer. I miss having her as part of our daily life. But she got stolen away by a wonderful sadist. Honestly, just the greatest guy you can imagine. She was swept off her feet and, once I met him and spent time with him, I understood why. Handsome, smart, funny, mellow…and apparently deliciously evil in private. I think my Megan has finally met her match, and met her life partner. I am so happy for her. And I miss her (did I say that already?)
During the time that we weren't blogging regularly, our one-year blog-iversary and our one-year anniversary as a married couple passed. I told Richard "I guess I'm not a bride anymore." But he said we're not really married until Elvis marries us (he wants to renew our vows in Vegas - ew). I guess I'll be living in sin for quite some time.
I look back over this year and so much has happened, it's hard to believe. Sometimes I think that I've changed so much - going from being one of the most independent women I know and one of the most vanilla and inexperienced, to being…a Daddy's girl, an owned woman, a sex toy. Mostly, though, I think that I've finally come home. I am finally myself, whole and complete. That has released an enormous amount of joy and energy and creativity. I owe all this to Richard. I am so grateful.
Well, I've certainly rambled, and I'm not sure if I've told you everything I meant to. Richard mentioned the hideous spam problem we had to deal with. I guess that's it. Remind me if I've forgotten something. I'm eager to get back to writing and I promise next time it will be something sexy.
xoxoxoxoAmy