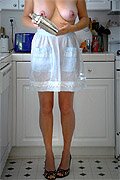 Richard is lying next to me, sleeping. Usually he works on his laptop while I nap (I need more sleep than him), so it is a rare treat to be able to watch him while he's sleeping. He is the handsomest man in the world. I really do need to take some pictures of him for the blog, so that you can all agree with me.

Today we went to Costco to get some things for an upcoming weeklong camping trip and to pick up prescriptions - migraine meds for me and an Epi-pen for Richard, who has an amazingly serious allergy to shrimp. We had a huuuge cart that was hard to move around, and I had picked up about five pounds of wild sockeye salmon to freeze for the winter. I was feeling nervous about getting the salmon to the freezer, so I asked Richard if he would pick up the prescriptions while I tried to find the big coolers, which had moved since the last time we were there.
To make a long story short, I ran all around the store with various employees until finally a manager checked the computer and found that all the Costcos in our area were out of them. Argh. I went to the Pharmacy line and Richard was standing next to it. He looked annoyed.
"Where were you?"
"I'm sorry, they're out of the coolers and it took a while. Did you get the prescriptions?"
"No, I didn't. I don't know what you're picking up."
"Daddy, all you need to do is give them our name. They'll find them."
We got into line and he was quiet. I asked him what was wrong and he told me he didn't appreciate my tone. It was rude. I knew immediately that he was right. Richard cuts me a lot of slack - he lets me tease him and he is very patient when I'm feeling anxious or worried. A lot of Domly-types would not tolerate what he does. But he does expect me to be respectful, and I wasn't.
This is important for me too. Like a lot of women, I am very organized and efficient. I have to be, to do my work well and keep my family safe, healthy and happy. In my past marriage, I took responsibility for almost everything. The upside of that was that everything was done how I liked it. The downside was that I felt like my husband's mommy instead of his wife. And not in a sexy way. And I would get bitchy. Ooooh, I could be bitchy.
I don't watch to be bitchy. I don't like myself when I'm bitchy. It hurts me as much as it hurts my partner, probably more. I'm sure that a lot of you reading are thinking "My goodness, that was nothing. You should see how bitchy I can be." I know that this was minor. Trust me, I can be way bitchier than that (although I haven't been to Richard.) To me, though, it feels like a slippery slope. This bitchy today, and what happens tomorrow?
I believe (and I may be wrong, I'll ask Richard when he wakes up and maybe he will reply to this) that, if I keep being disrespectful in this way, it will hurt our relationship badly. I believe that Richard would NOT respond by turning me over his knee more often, or by becoming stricter. That would probably help, but I don't think that is what he'd do. I think he would withdraw.
In our relationship, I have given all power over to Richard. If I start taking that power back, by challenging him or being disrespectful, then I am betraying him. I'm betraying him in the same way that, if we agreed to be monogamous, having sex with another man would betray him. How could he trust me if I did that?
Now, if I said "Richard, I don't want to have a D/s (or TPE or whatever) relationship anymore" then we could talk about it and he could decide whether or not he wanted to stay in the relationship, based on my wish to change the ground rules. (Again, just like many people have successfully agreed to move from monogamy to polygamy or polyamory.)
But the fact is that I DON'T want to change the ground rules. I DO want Richard to have total power. To do that requires trust on both our parts. This small episode (which I have warbled on and on about) showed me that I am wrestling with trust right now. (Much like meg at Obedient Persephone, whose blog I LOVE and highly recommend; see blogroll at right.)
Why am I wrestling with trust right now? It's related to giving control of finances over to Richard (see a couple of blogposts down - Another level of submission). I don't think he's going to f**k up and get the utilities shut down or anything. And if he did, so what? They can be turned back on. I guess I'm scared that he's not going to do them as well as I do them. Which is ridiculous, when I look at that statement in black and white, because I am no Suze Orman, yanno?
Richard, god bless him, when I was apologizing in the car, said "Well, why should you trust me? You don't know yet if I can do it, do you? I have to earn your trust on this."
I love how down to earth he is. Truly, he's right. People talk in very noble and spiritual terms about just letting go and trusting and the gift of submission and all, but it's HARD. I've worked hard to get where I am, and I still have kids to get through college, and southern California is not a place where you can f**k up financially and recover easily.
Now I'm handing all that over to Richard, who would have been perfectly happy to have me do all the financials forever. He's only taking it over to make life easier for me. It's a gift, pure and simple.
So. I need to trust Richard to deal with the finances and other "family administration" chores. But developing that trust will take some time. Until then, I need to stay respectful and try to keep my nose out of things while he figures them out. Not real sexy, not what I fantasized about in my pre-BDSM days. More "Surrendered Wife" than SexySlutSlave. The obvious next step in my submission to Richard.
I'll keep you posted.