About a week ago, with both of us laying rather stunned and exhausted on the bed, Amy caught her breath first, and managed to say "That was the fuck of a lifetime."
I had to agree.
Not audibly, of course. Well, maybe not audibly. Who remembers these things? I might have waved a weakly fluttering wrist, or gave a particularly approving sound of some sort, but simply surviving the next five minutes would have been a higher priority, and I needed all my energy if I wanted to guarantee my breathing beyond the next few minutes.
I don't really remember it now. I think it involved some spanking, maybe some…oh, I don't know. Ii was kinda in the moment, but I do remember agreeing with Amy's assessment. Maybe she can remember it better and will post about it, but a week is too far back to remember which sex happened at which time. It's all a blur to me.
I remember a couple of days later after sex wondering if my heart would collapse. I had done a heart stress test earlier in the day, then we went to Disneyland with the kids until midnight. My legs were dead after the stress test (which I aced, btw - new Doc - worried about my cholesterol levels) and running around Disneyland just about finished me off. It's the off season, so there are no lines. Do you know how much walking you have to do when there are no lines? omigod. Just give me a line to stand in, so I can rest a minute. Thank god for Space Mountain - any chance to sit and I'm there. And now that they've got that California theme park addition, well it's TWICE the walking. yay.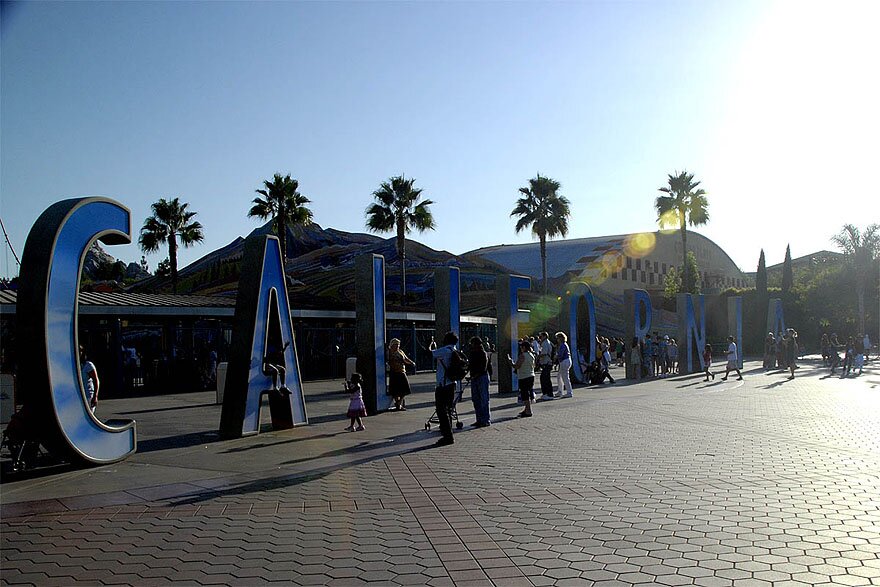 So we leave at midnight.
The kids are asleep in minutes. Amy is an early to bed kind of girl, likes to be asleep almost as soon as the sun goes down.
So we're in bed. Both exhausted, ready to sleep.
Then something goes horribly wrong. It's suddenly two o'clock, maybe three, who knows? And I'm slumped back against my pillows, wondering if I'm gonna die. And about as fucked out as any man can get.
WTF?
Don't leave me in a room with this woman.
Seriously.
I think she's trying to kill me.
Here she is yesterday morning.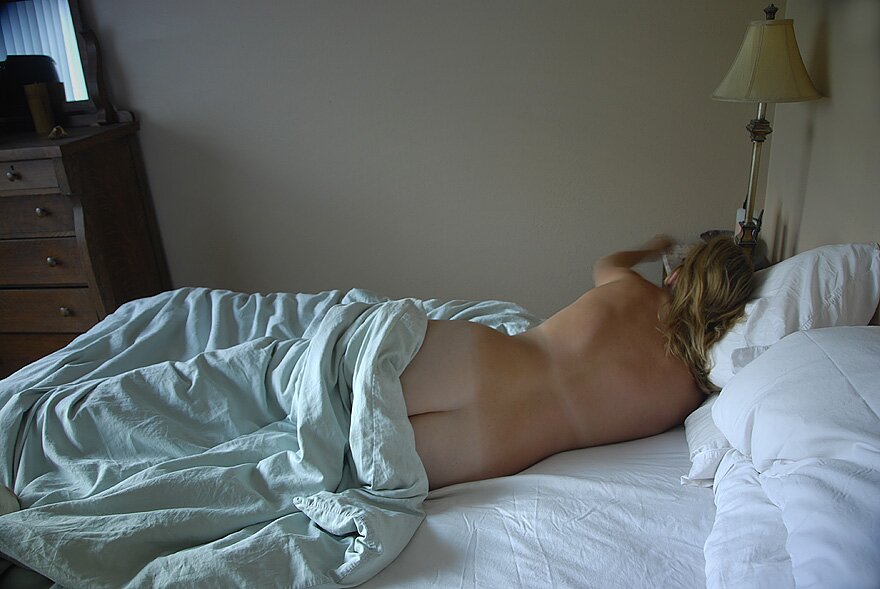 Did I mention both of us have had the busiest weeks this week we've had since we've known each other? We've had no time to play, it's been late nights of work and terribly high stress for Amy - with a LOT of work pressure on her. Last night, we took a break after 10 pm. and headed to MacDonalds for ice cream sundaes. A dollar each - those things are such a good deal, and a good size for the money. Makes a nice quick late night outing.
We come back, and I finish working on the laptop, while an exhausted Amy falls asleep on the couch beside me, making little sounds from time to time. I wake her later, and take her to bed, both of us dead tired.
We crawl into bed naked, I spoon Amy up to me, holding her, and happen to let one hand rest on her breast. I start to nibble on the back of her ear, kiss along her neck, the kind of quiet cuddling you always do when you are settling in to sleep. Standard stuff, nothing special, nothing sexy.
She starts to wiggle.
Omigod.
Amy is pushing that lovely white ass (see above pic) into me, and wriggling.
I tell her I'm far too tired to fuck her, but if she needs to cum I'll take care of it for her.
She says she doesn't need to cum, but I'm not convinced. She needs her sleep, so I'm not in a mood to dilly dally, and I start to play with her nipples. I figure I can make her cum soon enough, and she'll have a nice restful sleep afterwards. Amy knows what I'm doing, and starts to protest, but the nipple play heats her up quickly.
Then she discovers that I'm hard.
Sure, I'm erect, but it's not a sustainable erection. I'm just too tired. I tell her that, and keep playing with her nipples, but in a moment she's out of my fingers, and down with her mouth surrounding my cock.
Have I mentioned Amy's recent determination to be a bad girl? Well, she's working on it. She figures I can give her pointers, since I've known a few bad women, but I'm not much good there - Amy has pretty much burned the memory of other women into a pale distant ash. But she sucking cock like abad girl, or maybe a very good girl. Semantics. Whatever. She's just really good at it, and I slip my hand down under the arm she is propped up on, and my hand cradles the breast that falls into it.
Her nipples are hard.
She climbs on top of me, eagerly, and my cock slides effortlessly into a pussy so wet and open I can hardly tell it's there. Well, on entry anyway. It's there all right. Amy leans over and suspends those perfect breasts inches in front of my face in the moonlight, while down below her hips work some kind of incredible wriggly magic that my cock feels all too intently. I'm using my hands and mouth on those wonderful breasts, and Amy asks if she can try something.
Sure, why not?
She turns around, reverse cowgirl. We tried this before; it didn't work.
It's working this time.
She starts off low, her breasts grazing my legs, as she pumps her pussy up and down,, and all around on my cock. I can see her tanlines in the light, and that great ass of hers right THERE, right in front of me, and me with nothing to do with my hands.
My hands find her ass.
I find her asshole soon enough, and as she presses back against my cock, I massage her asshole,, spreading her cheeks and rubbing it with the ball of my thumb.
She makes noises.
Sexy noises.
We play like this for a while, then I tell her I'm going to grab the butt plug.
She says something - I'm not sure what. Maybe she was incoherent, I don't know. She has some issues with the butt plug, maybe a love/hate kind of thing. Hard to say. All I know is that I get interesting reactions when I put it up her.
Oh.
And she doesn't like to discuss it. We've used it maybe four times. Maybe more - who knows? She hasn't posted about ANY of those times yet.
So she's making some kind of vocalization down there, a protest I think, or maybe she's asking something, I'm not really paying that much attention. I can reach the butt plug in the drawer without breaking our position, and I spread some lube on her ass and work it into her asshole, and rub a nice big amount onto the butt plug. I locate her asshole with one finger, finger fuck her ass for a bit, then I slide the tip of the butt plug along that finger and into her ass.
The butt plug goes in easily. I start to fuck her with the butt plug. It bends my cock a bit forward, and it occurs to me it might now be pressing against her g-spot. I make a note to ask her about it later, although I end up forgetting that resolution until now.
She sits up now, facing away from me, my cock firm in her cunt, the buttplug wedged into her ass. I play with her nipples, her weakness, and she wriggles and squirms at the dual invasion.
Lovely.
I alternate between playing with her nipples, holding her hips and fucking her, and manually fucking her with the butt plug.
She makes many little noises, most of them positive. When I slow, she keeps on fucking. She's being a good girl. Or a bad girl. Semantics, once again. She's being fucked, and she's into it. Enough said.
I taunt her with fantasies of a double penetration; she's clearly ready to be double fucked, both mentally and physically.
All I need is a volunteer.
I tell her I'm going to take out the butt plug, and fuck her ass in this position. She makes more sexy sounds, possibly even words - probably expressing shock and dismay. She's fucking sexy, and I aim my cock at her asshole, and guide her back onto it. Neither of us has ever ass fucked in this position before, and I calmly guide and instruct her on how to most easily impale her slippery ass onto my cock.
Here the lube does us a disservice. She, and I, are too slick. My cock keeps popping away from her ass, due to all the lube. I flip her over now, ass in the air, and start to feed my cock into her from this angle, a nice traditional doggy style ass fucking.
Still to slippery, and after a couple of tries I just press my cock into her pussy, and start fucking her.
Now she's making lots of noise. Her favorite position, so no shock there, but still, she's pretty enthusiastic.
Eventually, exhausted, I break the position, and tell her to masturbate. She's not sure, she's afraid she's too tired to cum. I make her masturbate for a while, and then, well what the fuck. She can cum tomorrow.
I pull her hands away and move between her thighs, and tell her she's not going to be cumming tonight. I start to fuck her, figuring I'm too tired to cum, but I'll fuck her off, and we'll be done with it.
She's not really sentient, not at moments like this. I love those moments, when she turns into nothing but fuck, growling, begging, pleading - biting hard and deep into my shoulder, her hips fighting for ever deeper, ever harder penetration into her cunt.
I'm fucking exhausted. I'm fucking on empty - I've got nothing left, I started with nothing, for fuck's sake. I like the thought that my little sexy girl started this all of, and now she's not even going to get to cum. I'm much too tired to cum, let alone fuck her with the intensity it takes to cum, but I fuck her anyway. I'm quite aware that she probably ovulated earlier today, or will later tonight, so she's fucking fertile, and probably that's what started the whole thing off, whether she knows it herself. I think she knows it.
I like the idea of her not being allowed to cum, and lying beside me in the bed tonight full of my cum, exhausted. The image appeals to me, I like the thought of using her that way, and I cum.
Amy clings to me, and whimpers something about being overheated. We roll apart, essentially fucked senseless. I don't know the time, but it's late. I'm not moving, I'm just dead. Amy seems to be about the same, the two of us for a bit just lie there recovering, getting our second wind back, getting ready to cool off, get back into each other's arms, and drift off to sleep, her pretty ass pressed quietly up against my cock as always, her little belly filled with cum, and me nibbling on her ear and kissing her neck, telling her what a good girl she is.
Standard stuff, nothing special, nothing sexy…