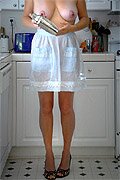 In my last post, I wrote about how Richard woke me to make me come and then face-fuck me a few nights ago. Southern Angel's response made me laugh out loud - she would hate to be woken at night, even for sex. It's a good thing I don't mind (heck, I love it) (not that it matters whether or not I mind) because Richard wakes me to fuck me quite often.
This morning, Richard told me something that happened during the night that I only vaguely remember. One of our dogs jumped onto the bed during the night and laid on my feet. I sat up on my elbow and leaned over to Richard and said "Is there a lizard on my feet?"
Richard said "It's okay, little girl. It's just Baby Dog. " (That's what he calls our youngest dog.)
"Oh good. Because if it was some kind of scritchy, slithery thing…" My voice trailed off, I lay back down and was instantly asleep.
——-
We're going to be away from home for a few days, and probably won't post until we're back. I hope you have a wonderful weekend. Hooray for summer!
xoxoxoAmy