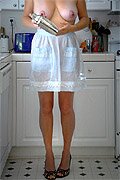 Richard and I were talking about how emotionally *smart* a lot of the comments were on my last post (Master/slave issues). Except, I guess, for the first poster, who simply expressed a desire to "fuck you so fuckin hard all anal and shit ill be yo bitch". Now I know who to call when I need a bitch. : ) Anyway, it's nice to know that we've got such bright, thoughtful and articulate readers out there.
We had a beach barbecue a couple of days ago, which was fun until the area was over-run with high school kids celebrating the end of the year. They were cute at the beginning of the evening, but then they started drinking and things got a bit wild.
Richard commented on how many of the male-female interactions seemed to be D/s-ish in flavor. Basic stuff like throwing sand or sticking it down a girl's bikini, or flicking her with a towel. Grabbing something that she was holding and keeping it out of her reach. Several times we saw a guy pick up a girl, throw her over his shoulder and carry her into the water. And of course there was lots of, as Richard calls it, "pseudo-wrestling", when a boy would grab a girl and throw her down onto the sand. The girls would squeal through all of this but they were always laughing and looked happy with the attention, in spite of it all looking relatively coercive.
Then there were the couples, laying on towels and cuddling. The guy would roll over and grab the girl's wrists and hold them over her head. The girl would struggle and laugh and they would end up wrestling for a bit before returning to cuddling.
Richard thinks it's because most people are more D/s than they realize; that vanilla people really aren't as vanilla as they think they are. That makes sense to me, at least from my own life, but I get nervous saying that because I don't want to imply that Maledom/Femsub is "normal" and anything else is kink/perversion. To be clear, Richard doesn't think that either; he's very cool with everyone's kink, I'm guessing he would just say that everybody's kinky in their own way and some kinks (eg M/f D/s) are more common than others. What do y'all think?