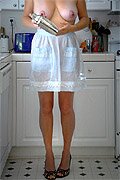 Last night I came out of the bathroom and I dropped to my knees and crawled to Richard's side of the bed. He looked up from his computer, arched an eyebrow and said "What do you want, little girl?"
Richard likes it when I crawl, and I know that Richard likes it, and Richard knows that I know it. So he knew I wanted something. hehe
But he looked so strict that it made me nervous, so I tucked my head down on his hand. After a minute he reached over with his other hand and stroked my head, then he pulled back on my hair until I was looking into his eyes. "Yes?'
"Daddy. The kids are going to be gone for a week. Can we please…" My voice trailed off. I am really bad at asking for things. Richard is trying to help me be better at this.
"Do you want to be my baby girl this week?" He smiled at me.
"No. I *always* feel like your baby girl. I want to be…your slave again. I don't know. I don't know how to say it. I want to be more D/s again."
"Awww. We have been awfully vanilla since you got sick, haven't we?"
"Yes, we have, Daddy. I miss the D/s. Does that make sense, what I said?"
"Yes it does. Now get into bed."
So I did.
And I have high hopes for this week, although I know it's not up to me. I'll let you know how it goes.
xoAmy