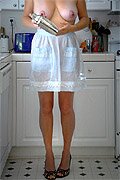 I just got a request from one of our readers (SherbetBerry at Fetlife) to talk a bit more about sub-drop. I feel like a bit of a faker writing about it, since I've only experienced it the once. I'm still at the stage of shaking my head and saying "Jeez, what hit me?" (And I don't mean Richard the Flogger. lol) I thought I might instead ask readers with more experience to post their thoughts about it. Wouldja? See also sulpicia's blog (on our blogroll) for a recent post about the same.
SherbetBerry got me thinking more generally about reader requests. We used to get more than we do now and I just realized that our email addresses are not on this site (they were on the old site.) I shall address that today. FYI, my email address is [email protected].
I would also like to ask, for those of you who are comfortable responding here, to let us know about what you like or don't like and what you would like to hear or see more (and if you'd like to remain anonymous, just give yourself a silly name, so I can distinguish between you eg QuietPerson or Lurker : )). For example, more posts by Richard? Pictures of Richard? (Do you like how I'm making more work for Richard? I'm sure my ass will hear about it when he reads this post. hehe)
Seriously though, do you have questions about previous posts that weren't answered? Is there something we haven't written about that you want to know more about? What are your favorite posts to read? (That will help me think about things to focus on in future.)
I have a few topics of my own that I hope to write about in the next couple of weeks, but it would be GREAT to get input from you on your interests and preferences. I sometimes think if readers knew how much most bloggers enjoy comments, they would post a lot more.
And now I'm going to the pool! Once I can drag Richard and the kids away from their computers, that is…
xoAmy