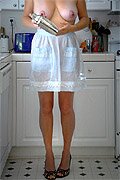 That's what I called Richard the other day when he was making me masturbate (for the second time that night!). He was being meaner even than usual, making me beg to come, making me say I was a slut, caressing my nipples and then suddenly flicking them so hard I'd squeal, then scolding me and covering my mouth so I wouldn't make noise.
I tell him I hate him irregularly, when he's being mean like that. But that's so clearly not true that he's never even commented on it. This was different. I think it shocked both of us.
Afterwards, after I'd come, I tentatively brought it up as we were cuddling. I was feeling very guilty about it. At first Richard was joking about what punishment he should give me, but then he could tell it was bothering me a lot and he said "Baby girl, I WANT you to lose control during sex. That's hot to me. Calling me names - that's you losing control. How can I punish you when you're doing what I want?"
Whew. That made me feel much better. Plus I was happy not to get punished, of course. But I'd a million times rather be punished than feel like I've let Richard down or insulted him.
I thought about this when I went on Fetlife today for the first time (oh that's fun! lots of fellow bloggers there! everybody should join! come be my friend on Fetlife!) There is a group called something like Submissive Females and they had a thread about "Things Not to Say to Your Dom". Stuff like "make me" or "is that all you've got?" or…"fucker", for example. I noticed there were three general kinds of comments, and it made me realize (again) what a big tent BDSM is - very, very different kinks and turn-ons, all under the same roof.
The first kind of comment was the "oops" kind, like I make ("fucker" and "now we're even" come to mind). It seemed like those kind came from subs like me, who were just going about their daily D/s life and slipped up occasionally, being human and all. (Am I lobbying? hehe maybe)
The second kind of comment seemed to be flirtatious or looking for trouble, like saying "make me" or telling your Dom that he looks cute on his knees. These comments came from self-proclaimed "brats", where the dynamic is less about obedience and more about challenging/forcing. Also sexy, but a different kink from ours.
The third kind of comment made my jaw drop, because I am NOT a masochist. Those were made during a scene, saying things like "that all you got?" or "I've had worse from better". Wow. I just can't even imagine saying something like that, because I would be so, so scared about what would happen next. Their skin must be made differently from mine.
To make things even, I think it would be fun to talk about "What you don't want to hear a Dom say". Off the top of my head, I would think "This is gonna hurt you more than it's gonna hurt me". And then, from my real life (pre-BDSM, so not a Dom), in the bedroom: "What do you want me to do for you? Tell me what would make you feel good." Blechblechblechblech. A) Quelle submissive, which is unlikely to turn me on, and B) figure it out for yourself!
We've just had a lovely day sans kidlets. Went to the pool and now we're having a tequila sunrise. I made lasagna and chili for later in the week (both taste better after a couple of days) and Richard just made one of his yummy stir-fries. Hope you're having a wonderful Saturday!
xoAmy