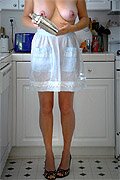 I am lying on the couch while Richard plays Blokus with the kids. We just had a lovely dinner - grilled tri-tip, green beans and baked potatoes, and then a carrot cake that I baked on the grill (whee! that was an adventure!).
I have a migraine.
As some of you know, I had an almost constant headache from mid-December to mid-May. Since then, I've had a migraine about once every 3 to 4 weeks, and it only lasts a day or so. But this week I've been having recurring headaches and migraines, like earlier in the year. I've also been moody and sad pretty regularly. I think it's hormonal. Bah.
Last night I had a little bit of a meltdown, explaining to Richard why I was a lazy, irresponsible, stupid, fat, ugly blah blah blah blah. He pointed out that I've been trying to do way too much, given that the kids are home for the summer and I haven't been feeling well. But I wasn't having it; I'd been avoiding my work, letting the house get disorganized, and spending too much time on avoidance net-surfing (blech, I think it's time for an internet ban/rollback). He told me that I needed to stop arguing with reality.
Arguing with reality is one of my biggest weaknesses. In a way, I think I've come as far as I have professionally because of this personality trait. Never satisfied, always pushing harder, wanting more. But now I've got this great life, great career, great kids, great home, perfectamazingwondermous husband. Now arguing with reality is just a pain in the neck.
I woke up this morning, hurting and exhausted, and my sweet Richard brought me coffee. I snuggled up against him and we talked and drank our coffee. I started feeling better but I was still in a bit of a funk. So I switched between whining and apologizing for whining, and grousing and apologizing for grousing.
Richard laughs and says "No, I want you to whine. Come on, little girl. Whine for me."
"Dadddddy. Nooo. I don't want to whine."
He chortles. "That's great. Good whining. C'mon. Whine some more." And he wraps me up in his strong arms and holds me while I squeak "nooo. I don't want toooo. let me goooo." My face is buried in his chest so my voice is muffled.
"Good. Now get cranky. Remember I even love the parts of you that you don't. I want to hear cranky Amy. I love my cranky girl." He laughs again, while I struggle to free myself. I'm laughing and whining and laughing at my whining and then I suddenly realize that I can feel his cock against me and it's hard.
As I do, he pulls my hand down to his cock and says "Do something useful while you're complaining." So I play with him for a couple of minutes while he continues to tease me, and then he says "Now I'm going to fuck you".
And he does, and he makes me come while he's sucking hard on my breasts, and then he fucks me again. After he comes, still inside of me and on top of me, he says "Oh baby girl, that was SO GOOD."
It was. And it is.
Learning to submit to Richard has made me so happy and content. If only submitting to reality could be as easy.
xoAmy