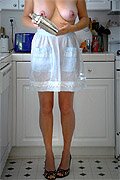 It has been a while since anything Richard has chosen to do to me has shaken me. Some of you will remember that earlier in our relationship, I would regularly experience a crisis of confidence after Richard had ramped things up - by making me sleep at the foot of the bed, or talking about forcing me to have a threesome, or denying me an orgasm.
After each of these things happened for the first time, I would spend a few days processing them. "How can I be a slave, property, a toy, and be loved, too?" was a recurring theme that I would ponder.
I was still learning to accept that I am sexually submissive. The vanilla part of me couldn't wrap my head around the idea that I was happier and more in love than I have ever been…with a man who is a sadist. A man who wants to control me and hurt me. A man who gets hard when I cry out in pain as he bites me or twists my nipple. Didn't that make me a pervert?
Richard's take on this: "So we're perverts. So what?"
When we visited Megan and her Master a few weeks ago, I experienced a different sort of crisis of confidence when I saw how much more Megan's Master demanded of her. It made me wonder if I were a pampered princess.
I don't "top from the bottom". Richard gets what Richard wants, and he gets it when he wants it. It is not always what I want. But he is a very nurturing and sensitive Master. He is more protective of me than I am. I am not allowed to open my own doors, I can't open soda cans now that I have acrylic fingernails (and when I did it on my own, boy was I sorry!), he watches that I get enough sleep and don't work too hard. He monitors how often I orgasm! If I haven't had an orgasm in a couple of days, he makes it a priority before we go to sleep at night, more of a priority than him having an orgasm.
Doesn't that sound like more of a princess than a slave?
Megan, as usual, has been wonderfully supportive about this. She could tell that I was feeling insecure and worried about it all, and she took pains to point out the differences in our needs and our dynamics: she is more experienced, she is a pain slut, she is an exhibitionist and loves humiliation play.
Richard simply said that, as he always has, he will continue to demand what he wants from me or simply take it. For him, it's about control. Giving me pleasure or giving me pain are equivalent, if they lead to him having more control over me. (Not sure I said that right, but I think that's the gist of it.)
So. Last night. Richard has spent the last three days photographing the southern California fires. He comes home at night dirty, exhausted and aggressive. He has a shower, I feed him dinner and make him a Jack Daniels. Then a second.
We go to bed early, snuggle up and I begin to nod off. But Richard hasn't been able to settle, and he begins to play with my breasts. Instant squirminess for me. Then he grabs me by the hair and shoves my face down onto his cock. I begin sucking him and playing with his balls. Oh, he tastes so good. Finally I can't take it anymore and I crawl up his body and slide onto his cock.
…It's as if I unleashed a beast…
He growls and grabs my hips and starts fucking deep into me. (OK, when I used to fuck "Female Superior" in my vanilla days, I felt very in charge. How can the same position feel so very different with him?)
Then he starts talking about what a slut I am, how he's never been with anyone even half as slutty as I am, how I need to fuck all the time and he loves it, and how he needs to share me with other men because I need to fuck so much. And he starts handling my breasts as he says all this, and tells me that when he plays with my breasts I turn into such a slut that I would fuck anyone or do anything he said.
Which maybe is true, because I completely lose control when he is playing with my breasts. I can't see straight, I can't stop my hips from grinding against him, I can't stop from moaning and begging.
After he fucks me for a while, I reallyreally need a drink of water. The dry, smoky air here right now isn't helping. I ask if I can get a drink.
"You want a drink? Right now? Wow, that's a bit of a mood killer, isn't it, little girl?"
"Please Daddy. I really need a drink."
He's silent for a minute. I wait, perched on top of him.
"Fine. Go get some water. But you have to crawl to the bathroom to get it."
My mind whirls. He's never made me crawl before. How humiliating. Maybe I don't need water so much. I hesitate.
"You're going to go get the water. Do it now."
I climb off of him and slowly crawl into the bathroom. He watches me the whole way.
As I fill the water bottle, I realize that he didn't tell me to crawl BACK. For a moment, I play with the idea of walking back. But then I think that maybe that wouldn't be a good idea. So I crawl back, holding onto the bottle with one hand.
He grabs me by the hair and pulls me back into the bed, where he fucks me for hours, taunting me with how wet I am and making me cum so hard that every touch of his sends jolts through me for over an hour afterward.
Today I don't feel like a princess. Today I'm back to thinking that I am a big-time pervert. But I'm a very turned-on pervert. This will take some processing.